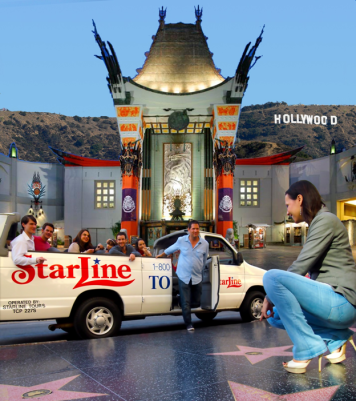 Welcome to Starline Tours of Hollywood, L.A.'s oldest and most respected choice in sightseeing and the original Celebrity Homes tours.
About Us
Located in the heart of Hollywood, Starline Tours is the largest tour company in Los Angeles, offering a full range of tours. We have been featured on hit shows like Ellen, American Idol, the Muppet Movies, Iron Man 3, NBC's Today Show and showcased on the Travel Channel. We've also been written about in the LA Times, USA Today and other reputable newspapers and travel magazines from around the world.
Starline originated as the Movie Stars Homes Tour when Mr. Sid Grauman, creator of the famous Chinese Theatre, gave his chauffeur (Bud Delp) the idea of driving people around Hollywood to see the homes of celebrities, back in 1935. We are still the leader in this tour today.
For movie enthusiasts, we have the LA Fit Locations Tour.
Starline's City Sightseeing Los Angeles covers over 100 miles of route, with guided narration in nine different languages, making it the largest Hop-on Hop-off service in the world!
Also included in our tour portfolio, are our LA CIty Tours, Walking Tours and, Night Tour.
In addition, we have a large fleet of deluxe highway coaches available for charter to local clubs and organizations as well as groups from all over the world.
Founded in 1935, Bud Delp started the Movie Stars Homes with three limousines and drove star struck tourists around Los Angeles to see celebrity homes. In the mid 60's, our President and owner Vahid Sapir, who was at the time an exchange student from Iran with an entrepreneurial spirit, became Bud's protégé. By the end of the decade, he took out a $50,000 loan, bought the company from Bud and built Starline to what it is today – a thriving tour company with a large fleet of open-top vans, closed-top double-decker buses and open air trolleys offering a variety of tours given by our fun, up-to-the-minute informed drivers.
As part of Hollywood history with 80 years of experience in the tour industry and the largest number of celebrity encounters of any tour company, Starline Tours is the #1 choice for your Los Angeles sightseeing adventure.