Warner Bros. Studio Tour Discount Tickets & Transportation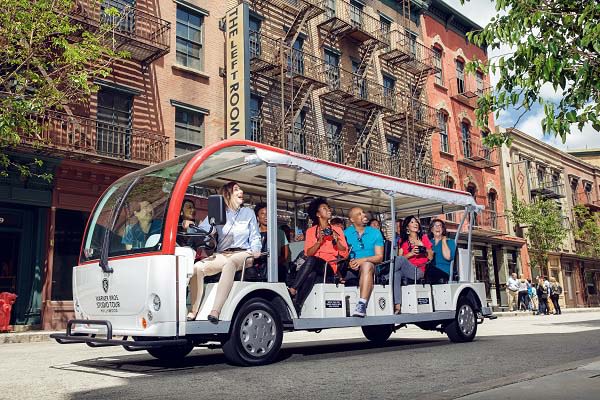 TOUR DESCRIPTION
Start here for discounted tickets and hassle-free travel when you ride with Starline Tours.
Prices includes hotel pickup and drop off
Backlots & Soundstages
The Wizarding World
Friends – Central Perk Set
Enter The Batcave – Batmobile Collection
MORE INFORMATION
No tour of L.A. is complete without a behind-the-scenes glimpse into the inner workings of your favorite TV shows and movies!
Warner Bros. Studio Tour®
Warner Bros. Studio Tour Hollywood brings you closer to the entertainment you love. Explore our iconic 110-acre backlot that brought to life Batman, Argo, The Big Bang Theory, Casablanca, Pretty Little Liars, La La Land, Friends, Gilmore Girls and more. Our knowledgeable Tour Guides will take you behind-the-lens and show you how and where TV and movie magic is made. Our 3-hour Studio Tour includes both guided (2 hours) and self-guided (1 hour) visits to various areas throughout the backlot with a chance to see:
Backlots & Soundstages – discover where Warner Bros. has made some of the most iconic performances in Hollywood history come to life. You may even get a chance to see where hit shows like Ellen and The Big Bang Theory are currently filmed!
The Prop Department – home to more than 450,000 registered artifacts and contains countless treasures used in nearly a century's worth of entertainment
Batmobiles – including the Tumbler, the Bathammer, the Bat-Pod, and the Joker's car from Suicide Squad
DC Universe: The Exhibit – paying homage to the origins of the DC Universe, including original comic books featuring all seven Super Heroes of the Justice League along with unique props and costumes from your favorite DC characters
Harry Potter & Fantastic Beasts – see the detailed costumes and props from the films of the Wizarding World
Stage 48: Script to Screen (Self-Guided Tour) – the final stop of the Studio Tour includes a visit to Stage 48: Script to Screen, which explores the phases of film and TV production. You can step into an actual set of Friends, become Hobbit-sized at our forced perspective special effect table, soar above Hogwarts on a broomstick and so much more. Central Perk Café and the Warner Bros. Studio Store is located at Stage 48.
With actual filming happening all around, not all stops are guaranteed and no two tours are ever alike. Discover Hollywood Made Here™.
Starline Tours of Hollywood provides full roundtrip transportation to and from your hotel in Hollywood and admission to Warner Bros. Studio Tour Hollywood.
9am Departure Tour Duration: 9 hours – includes transportation with 3 hours in Hollywood and 3 hours at Warner Bros. Studio Tour Hollywood 11:00 am Departure Tour Duration: 7 hours – includes transportation with 1 hour in Hollywood and 3 hours at Warner Bros. Studio Tour Hollywood Security Check and Picture ID is required for admittance into Warner Bros. Studio Tour Hollywood.
Adult is age 12 and older – Child is 8 and older
Children under 8 are not allowed in the park.
RELATED PRODUCTS
LA's biggest backlot tour!
customized open air theater bus!
See where your favorite LA movies were shot
Live Guide
behind-the-scenes insights!
See where celebrities work & Live
Celebrity Homes
Warner Bros. Studio tour