HOLLYWOOD TERMINAL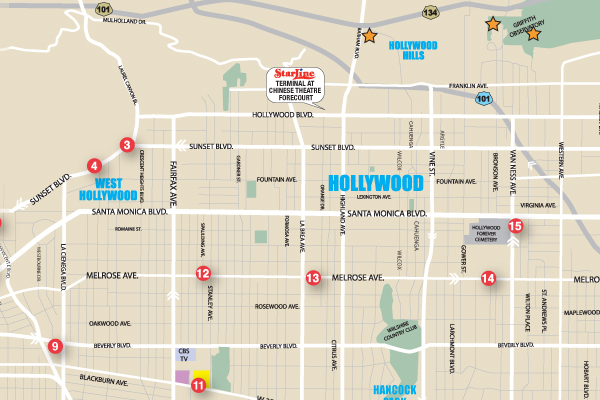 Starline Tours Hollywood Terminal
6801 Hollywood Blvd. Suite 203
Los Angeles, CA 90028
+1 (800) 959-3131
LAX TERMINAL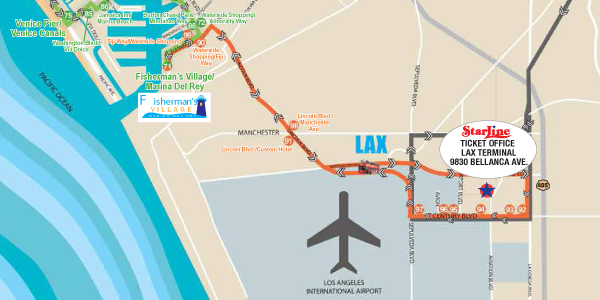 9830 Bellanca Ave.
Los Angeles, CA 90045
SANTA MONICA TERMINAL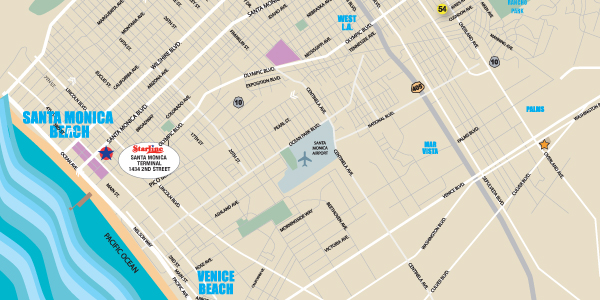 1434 2nd Street
Santa Monica, CA 90401
Hotel Pick Up Locations in Southern California
Convenient Los Angeles hotel pick-up service is just part of what we do at Starline Tours. At Starline Tours, we are pleased to offer complimentary Los Angeles hotel pick-up service as part of our pledge to do whatever it takes to help you have a great Southern California vacation. When you book a tour or trip package with us, we'll take care of all the driving, leaving you free to do what you came to Los Angeles to do: relax and take it easy. Our drivers will usually pick you up from your Los Angeles hotel 40 to 120 minutes in advance of your tour or trip's scheduled departure time, depending on your location and where you'll be headed. At the conclusion of your tour or trip, we will also provide convenient drop-off service to your hotel, ensuring that you'll never need to worry about driving or navigating L.A.'s public transit network. Simply let us know that you want hotel pick-up and drop-off service when you book and our team will take care of all the details.
Our Los Angeles hotel pick-up service lets you take full advantage of our unique tour and travel packages.
The great thing about our Los Angeles hotel pick-up service is that it frees you to stay where you want to stay, rather than choosing your accommodations based on a single attraction you're planning to visit. For example, a lot of visitors to Los Angeles stay in hotels near Disneyland or hotels near Universal Studios simply because they're planning to spend a day in the theme parks. Yet, for the rest of their visit to Southern California, they're inconveniently located and have to travel great distances to see the rest of the attractions they came to see. We provide an alternative. With transportation and ticket combo packages to all of L.A.'s major family-themed attractions, you're free to stay where you want and let us take care of getting you to and from your planned activities. Our Los Angeles hotel pick-up service is available at most major hotels in the greater Los Angeles area.