City Sightseeing: Stop # 2 Guitar Center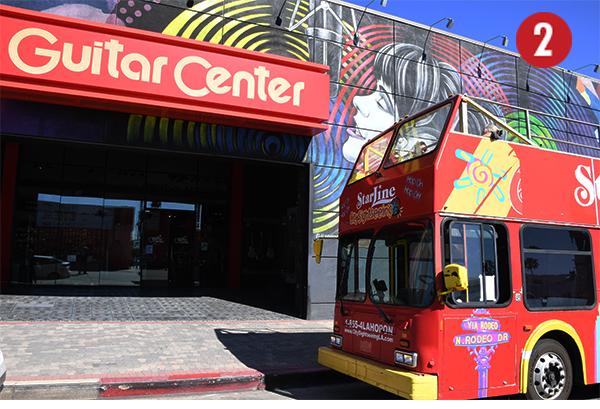 "Guitar Center" is a large music store and is a great place to buy a guitar, but what makes this particular store unique is what lies just outside its front door: The Hollywood Rock Walk'. Hollywood has long paid tribute to its film & TV heritage, but its rock & roll pioneers largely tended to go unrecognized, so the Rock Walk was created in 1985. Unlike the Chinese Theatre, only the Rock Star's handprints are set in concrete, and bronze plaques line the walls.
Like the Fender Stratocaster that Jimi Hendrix famously played upside down and strung for a lefty, the Gibson Les Paul has been the guitar of choice for Jimmy Page, Joe Perry, and Slash, among many others, all of whom have their handprints on the Rock Walk.
The list of Rock stars honored is impressive. It includes Chuck Berry, Little Richard, Jerry Lee Lewis, Kiss, Bo Diddley, Brian Wilson, James Brown, Aerosmith, Smokey Robinson, The Moody Blues, the Doobie Brothers, Carl Perkins, Greg Allman, Black Sabbath, Grace Slick, Alice Cooper, Ozzy Osbourne, Nancy Wilson, Johnny Cash, Jethro Tull, Steely Dan, Ted Nugent, Emerson Lake & Palmer, Jeff Beck, Lynyrd Skynyrd, Kansas, The Ramones, The Ventures, Jan & Dean, Carlos Santana, B.B. King, Carol King, Dick Clark, and Leo Fender (inventor of the Fender guitar).
This hidden gem in the heart of Hollywood is often missed as tourists make their way to close-by landmarks.
Hollywood Rockwalk is at 7425 Sunset Boulevard, between Fairfax and La Brea Avenues in West Hollywood.